The Ultimate Luggage Storage Guide in New York City
Discover the Best Luggage Storage Options for Your Travel Needs and Say Hello to Stress-Free Traveling
Are you tired of lugging around heavy luggage during your travels? Do you wish you had a convenient place to store your belongings while exploring the city? Look no further than our ultimate guide to finding the perfect storage solution for your stay in NYC City.
Say goodbye to the hassle of dragging your bags around, and hello to stress-free traveling. Our tips and inside knowledge will help you navigate the city's best storage options. From short-term luggage storage to long-term solutions, we've got you covered.
Whether you visit for a day or a week, our guide will help you find the best storage solution to fit your needs and budget. Don't let storage woes ruin your travel experience – let us guide you to convenient and worry-free storage options in NYC City.
Leave Your Luggage Behind and Explore the Big Apple: New York's Luggage Storage to the Rescue!
All of us want to make the most of our New York trip. Seeing everything, going everywhere, and experiencing New York can be a struggle when you have your heavy luggage with you. Maybe you have hours until your check-in time or your flight leaves late at night but you do not know where to store your luggage until then. Luggage storage is the perfect solution for you and it will give you the opportunity to keep just your essentials while you take advantage of every minute you've got in the city! In the chart below we collected and compared some of the bigger luggage storage companies you can find in New York City.
| | | | | |
| --- | --- | --- | --- | --- |
| Name | LuggageHero | Bounce | Stasher | Vertoe |
| Prices from | from $1.29/hour or $8.95/24h | $5.90/24h | $13.80/24h | $11.90/24h |
| Insurance | Up to $3000 | $10k | Up to $1000 | Up to $5000 |
| Number of stores | +40 | +80 | +20 | +30 |
| Size Limitations | No | No | No | 75 lbs/ 35 kgs may be rejected |
| Ratings | 4.7 | 4.9 | 4.7 | 4.8 |
| Flexible arrival | Yes | No | No | No |
| Reviews | +116.000 | +172.000 | +5000 | +54,980 |
Headed to New York City?
Welcome to one of the world's most populous and most photographed megacities – New York City! Nightlife, culture, art, museums, world-class restaurants, and one-dollar pizza. New York has it all! Skyscrapers, parks, tubes, tunnels, and alleyways. You do not even know where to look. Fashion, technology, education, politics, entertainment, and education! There is nothing you can not find in the city of New York.
The city is situated on the east coast of the United States. With a population of over 8 million people, New York is one of the largest and most densely populated cities in the world. Hundreds of people keep getting amazed and enchanted by the magic of the city which makes everyone want to move to New York. The constant buzz, the ambiance, there is just something magical about the crowdedness and loudness of the city.
In New York City you can never be bored! There are so many sights and places to visit, activities to take part in, and events to attend.
New York is a city that never sleeps, with a constant buzz of activity and excitement that makes it one of the most exciting and vibrant cities in the world.
One of the most iconic landmarks in New York is the Statue of Liberty, a gift from France to the United States that has become a symbol of freedom and democracy. The statue stands on Liberty Island, just south of Manhattan, and attracts millions of visitors each year.
Another famous landmark in New York is the Empire State Building, which stands 1,454 feet tall and offers stunning views of the city from its observation deck. Other notable attractions in the city include Central Park, Times Square, and the Metropolitan Museum of Art.
New York is also known for its diverse neighborhoods, each with its own unique character and cultural influences. From the trendy boutiques and restaurants of SoHo to the historic brownstones of Brooklyn, there is something for everyone in New York.
Some surprising and entertaining facts about New York:
The First Pizzeria In The USA Opened In New York City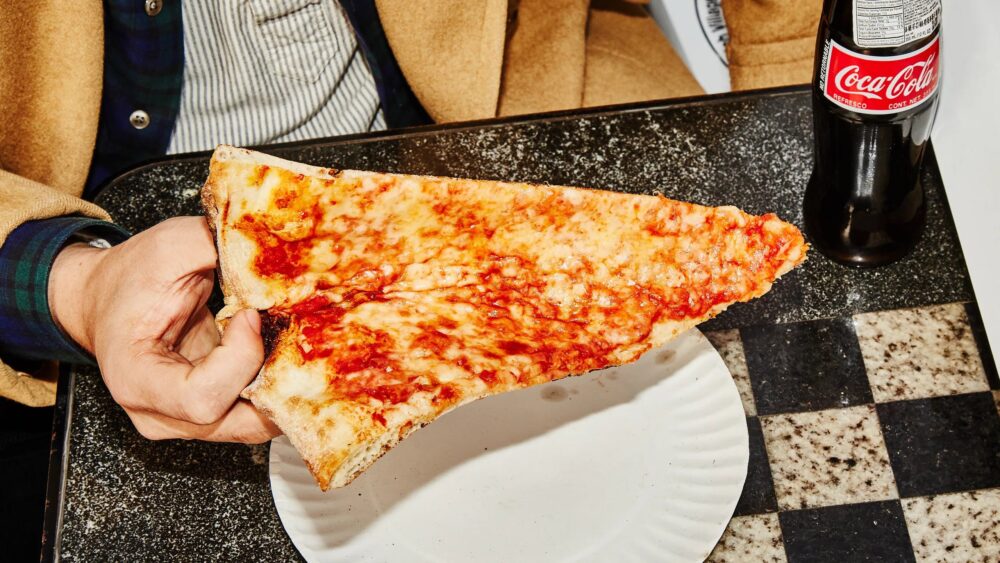 The first pizzeria in the US opened in New York City in 1905, as certified by the Pizza Hall of Fame. Lombardi's Pizza on 32 Spring Street is still going strong and it is now one of around 1,600 pizzerias in the city. New Yorkers have noted that when the price of subway tickets goes up, pizza does too. They call it "the pizza principle."
New Yorkers Speak More Than 800 Languages
As a collective, the city's citizens speak around 800 languages. Almost half of New York households speak more than one language and one-third are born overseas. And because New York has the biggest population of any US city, 1 in 38 people in the United States are New Yorkers.
Honking Your Horn Is Illegal
We promise these facts about New York are 100% true, but we understand why this one sounds made up. Because if you have ever sat in the back of a yellow taxi cab in traffic, you know New Yorkers honk their horns.
The City's Original Name Was New Amsterdam
Did you know that New York wasn't always known as New York? Due to the fact that Dutch people were the first to occupy the area in about 1624, the original name was New Amsterdam. But when the English took control in 1664, they gave the city a new name in tribute to the Duke of York.
Central Park is the World's Most Iconic Filming Location
Did you know that Central Park in New York City has been featured in more than 530 movies, making it the most filmed location in the world? From classic films like "Breakfast at Tiffany's" to modern blockbusters like "Avengers," Central Park has set the stage for countless memorable movie moments. Walking through the park, you might just stumble upon a film shoot for the latest Hollywood hit. So, next time you're in the Big Apple, be sure to visit the world's most iconic filming location and see if you
But what is Luggage storage?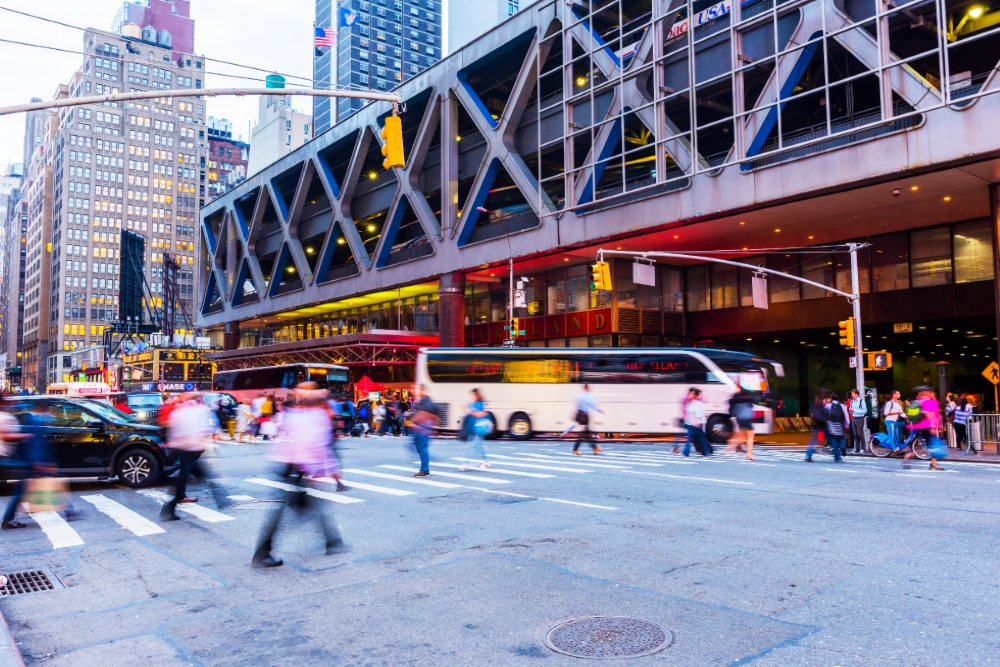 Luggage storage is a storage facility where luggage can be left. These facilities can be found in main tourist points of cities such as airports, train, and bus stations. Pricing for luggage storage facilities can vary depending on time, place, and provider.
Luggage storage is the term used internationally when referring to storing luggage. It is the same thing as left luggage, the only difference is that left luggage as a term is mainly used in the UK. They are both defined by people's need to store luggage that can be collected at a later time.
Some smaller luggage storage services
Has two locations in midtown Manhattan: 357 W 37th St and 34 W 46th St
It is located near Time Square: 357 W 36th St, 2nd Floor
Luggage storage at New York airports
John F Kennedy Airport: You can find Luggage storage services at the JFK airport in terminal 4 on the lobby side of the terminal. Next to this, you will be able to find the train station. Which makes it easy and convenient to drop off your luggage before heading to the city. The price of this service is higher than services located in the city. Costing around $25 for a medium-sized suitcase. Expect this service to open your luggage and to also scan your suitcase before approving it for storage.
LaGuardia Airport: Unfortunately there are no luggage storage facilities at LaGuardia Airport.
Newark Airport: Unfortunately there are no luggage storage facilities at Newark Airport.
In case you are flying to or from LaGuardia or Newark airports we recommend you check for luggage storage options and facilities nearby these airports or at the connecting train stations.
LuggageHero is our recommended luggage storage service in New York City
LuggageHero is our preferred luggage storage service provider in New York City, based on the number of storage locations near the area, flexible pricing, and luggage insurance as well as a simple online booking process. LuggageHero has more than 130 stores in NYC alone, so you can always find a luggage storage store nearby and save your
Use a LuggageHero certified local shop (coffee shops, souvenir shops, restaurants, and stores) in New York City to store your luggage and avoid the classic and expensive luggage locker in NYC, where you have no guarantee for your belongings.
Some LuggageHero locations in New York
Store your luggage and don't think about it anymore!
You can store any kind of luggage at LuggageHero locations: backpack, trolley, or any kind of gear or equipment you might have to remember that LuggageHero is the only luggage storage service that offers hourly and daily rates for maximum flexibility!
Are you staying more than one day? Don't worry!
LuggageHero storage service is not only easy to use but flexible as well! Your luggage can be stored for multiple days and you don't need to know when you'll be picking up luggage. From the second day onwards, you pay only $6.90 per bag per day!
Use the official LuggageHero app to store your bags anywhere around the city!
You can download it and easily see the most convenient luggage storage locations around you!
Customer Reviews of LuggageHero